KC Wire Weekender

Disproving the myth that "there's nothing to do in Kansas City" one week at a time. Forward to colleagues, friends, & visitors and see you around town!
Juke House Fridays Reverse Happy Hour
Come out and kick it with the Hot 103 Jamz Morning Grind team, Shay & Shyne for the Fridays Reverse Happy Hour — This Friday and Every Friday, 10pm-midnight!
One Night Stand
The 5th Annual KCAC Members exhibition is back by popular demand and with a fresh new name!
A one-night pop-up art exhibition in the KCAC galleries for KCAC member artists.
This is a great opportunity to get some holiday shopping out of the way, support your local artists and enjoy a night out with friends!!
3rd Fridays at Clubhouse
A Friday evening of acoustic soul and hip hop grind to bring out your flavor of Music, art, peace & love.
When: Friday, November 18
Where: Clubhouse (512 E 18th st KCMO)
Time: 7-11pm
ALL AGES
$10 @ door
Lifted Spirits Distillery Grand Opening Celebration
Come out and celebrate our Grand Opening! We'll be pouring vodka and gin cocktails all night in the tasting room. Tour the distillery, meet the team, and learn how we make our stuff!
We'll have food, music, and amazing drink specials all night.
A Debonair Affair
Beta Lambda Educational Institute in partnership with Alpha Phi Alpha Fraternity, Inc - Beta Lambda Chapter is pleased to present the 2016 'A Debonair Affair.' This is arguably the premier event for elementary school aged young men, ages 7 to 12 years, in the Metropolitan Kansas City.
Each program cycle, debonair's perform community service activities designed to encourage them to become more aware of their value and contributions to society. Additionally, debonair's participate in educational workshops led by community leaders. The workshops include topics on communication skills, drug awareness, leadership, obedience to parents and teachers, self discipline, and self esteem.
Good Love Social
IT'S THE 1ST GOOD LOVE SOCIETY SOCIAL!!
You've asked for it so we're connecting all of you like minded, good energy folks under one roof.
Appetizers and free candid portraits will be taken from 4-5pm.
Come vibe, mix and meet our curater list of attendees at one of KC's newest gems. We can't wait to see you.
* P.S. Long hugs are encouraged at our events. *
The Kritiq Fashion Show
The Kritiq was birthed in Kansas City from the idea of giving locals a platform to expand creatively. Collaboratively a group of friends set out to break boundaries within fashion culture, tying together two worlds: streetwear and high fashion.
The Kritiq is a fashion showcase featuring local designers, models, and brands.
Back to Life Fashion Gala
Our mission is to bring awareness to our community regarding such illnesses as ALS ( Amytropic Lateral Sclerosis) also known as Lou Gehrigs disease and LUPUS. Soul to Soul Foundation along with many other's will come together in honor of recipients of these illnesses by raising funds to help with monetary debts.
Kansas City Food Circle Holiday Pop Up
This is KC's only 100% local Holiday Pop Up Shop! Celebrate all the diversity found in our community - from gifts to home goods to all the food you need for Thanksgiving. This event has it all.
13TH Community Screening
FREE SCREENING presented by the African American Film Critics Association
13TH is the critically acclaimed documentary by director Ava DuVernay. Centered on race in the United States criminal justice system, the film is titled after the Thirteenth Amendment to the United States Constitution, which outlawed slavery (unless as punishment for a crime). DuVernay's documentary argues that slavery is being effectively perpetuated through mass incarceration.
Thanks American Jazz Musuem, Negro League Baseball Musuem and Black Archives of Mid-America

Tampa Bay Buccaneers vs. Kansas City Chiefs @Arrowhead


Free Workout at BootCamp
Come join the ladies of BootCamp Fitness + friends as well as the ladies of Lucy Activewear Town Center Plaza for a FREE workout, shopping and snacks! Get to know Coach Roslyn at Bootcamp Fitness/CrossFit Kansas City and learn about upcoming events and WomenFit Kansas City!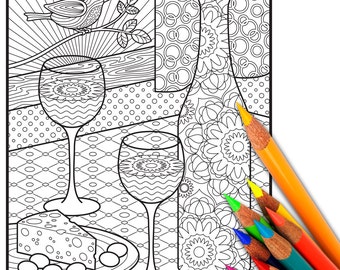 Crowns & Crayons Grown-up Coloring Event
Noon-5:00 pm
Coloring isn't just for kids anymore! You thought drinking wine was relaxing…Try pairing it with the latest trend in relaxation: adult coloring! Feel free to bring your own favorite coloring books and tools to use. We'll also have some free pages to use, as well as tools and books available for purchase. There's no cost to attend and you don't need to RSVP – just come on out to relax and "wine-d" down!
@ Weston Wine Company
http://westonwinecompany.com/upcoming-events-2/
Have a great weekend!
 

--
The Wire is designed to keep KC Black professionals up to date on everything happening around the city. Please use it for birthdays, performances, turn ups, BBQs, kickbacks, and all ratchet (and unratchet) affairs in between.

There are 3 simple rules to follow on the Wire:

1. Contribute.
2. Contribute.
3. Contribute.

If you see/hear about an event around town, let us know!
---
You received this message because you are subscribed to the Google Groups "Wire KC" group.
To add someone, send an email to Spence at spencer.hardwick11@gmail.com.
To unsubscribe from this group and stop receiving emails from it, send an email to wire-kc+unsubscribe@googlegroups.com.
To post to this group, send email to wire-kc@googlegroups.com.